And I'm full of snot.
So - I'm re-watching some Harry Potter movies (starting with PoA, my fav of the books) with the dogs lying across my legs, a pot of tea at my side. We're (we because the dogs are
obviously
watching too) are up to Goblet, and I had forgotten about The Doctor and Edward being all up in there. Cute. And Neville is still a sweet wee nerd (not yet a BAMF,
sigh
). Gorgeous.
I'm also researching patterns for my own quilt; I have quite the selection of 'vintage' floral prints but cannot decide what to do with them. This is one of my favourites, but I don't have the plain fabric to do it justice: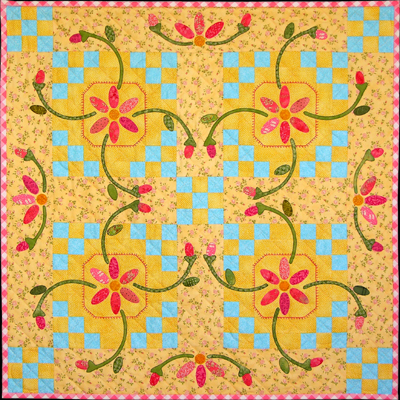 I think because I want the prints to be the focus and not the pattern, I might stick with a simple repeating squares design, though smaller squares than the
Kiwi Quilt
. And no rectangles...less 'retro' than this, but I think you get the gist:
I'm just not sure. Decisions, eh? It will definitely be excessively 'sweet', so I'm thinking the reverse will have to be a toxic mix of the leftover brights from the
kiwi quilt
, with some oranges, purples and perhaps even a bit of fluro pink thrown in for the clash-factor. Can't have anyone thinking me fully '
sweet
' after all. Yuck.
---
In other news, have you seen the fallout from the
Forbes article
?! Its great.
Isis has a good starter rant
if you want the quick version. 'Professorship the least stressful job of 2013' as judged by a woman who is deeply regretting her lack of article-research, right now. Jeebus. Gotta love the online science community, they totes got our back. Go have a wee read, its...well, yeah.
---
"If chosen, you stand alone"
Victor Krum is a hottie. I
love
the Durmstrang entrance.