The Loitering One organised a Departmental table tennis comp for Happy Hour on Friday, I I totally won my first game!
...Ok, so it was only because my opponent was worse than I and by my trying to just keep the ball on the table I won by default. Was smashed in the second round and later smashed by The Douchbag Jar who played with only a hand. Seriously - not even a racket and he beat me.
I blame my undergrad years. You know - for actually doing uni and not sitting about in bars playing pool/table tennis/foosball. Fo'shame.
Brilliant good fun at any rate, it was surprising the people who had hidden talent. And the people who cannot stand losing to anyone. Hilarious.
---
I experimented last week with making these, 'pretzel hugs':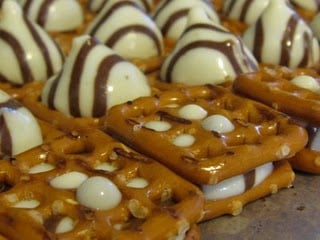 Total fail, if you were wondering. Stupid american faux-recipes. And those 'kisses' are so godamn expensive and some of the worst chocolate I have ever tasted. Kind of compound-like. Ick.
And because I'm a sucker for punishment I thought I'd try making this 'bark' bollocks that seems all the rage in the States at the mo.
Basically (in this version) a layer of chocolate, sprinkled with pretzel pieces, a layer of caramel and then chocolate on top. Cut it up into what I can only assume are supposed to look like tree bark pieces.
I also whipped up a batch of chocolate caramel cupcakes, half of which I took round to meet the new Postdocs baby - so,
so
cute.
She is the most beautiful,
tiny
baby I have ever seen, I swear. She slept in my arms for a solid hour and it was very hard to leave. Shall have to get in many sneaky visits before I leave the city.
---
Finished JKR's new book yesterday. Took me a couple weeks to get through the first half and then only a couple days for the second - it got
so much
better. And I think the distinction is that the first half focuses on the adults and the second on the children, the childrens' characters just
pop
. And there is some of the best
crescendo
that I have ever read, good
god
. A very good subliminal commentary on society, and a satisfying, if
distraught
, ending. Overall impression - not bad, JKR, not bad at all. Certainly more than I was expecting.
---
Time for more job applications...urgh.